Are you hoping to conceive soon? The best method to ensure a healthy pregnancy and infant is to have a pre-pregnancy check-up before you start trying to conceive. Pre-pregnancy counselling in Mumbai is available at Budget IVF & Fertility Centre to check that your body is ready for this exciting new phase in your life.
Medical issues and lifestyle choices can influence pregnancy and your ability to conceive. Some of the best gynecologist in Mumbai at our clinic will work with you to address any health concerns you may have, including some you may not be aware of, to decrease the chance of unnecessary complications for you and your baby throughout pregnancy and childbirth.
Budget IVF & Fertility Centre is a premium gynecology clinic in Mumbai known for affordable, holistic, and personalized care. Our gynecologists handle a wide range of female health issues, including vulval diseases, pelvic discomfort, fertility, early pregnancy, contraception, fertility, and general gynecological conditions.
We are among the leading centres for extensive endometriosis and PCOD treatment in Mumbai. A group of renowned gynecologists leads our clinic with a plethora of experience and knowledge.
Let us begin by understanding what is pre-pregnancy counselling?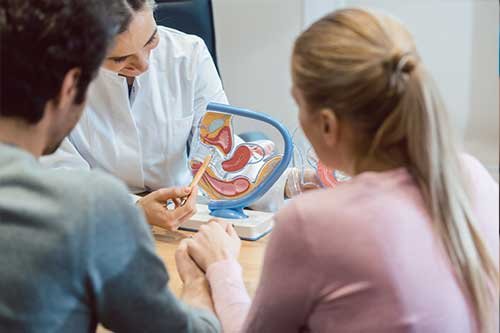 Pre-pregnancy counselling in Mumbai is a session that takes place before you conceive and is helpful to both the mother and the baby during pregnancy.
It aids in detecting any risk factors during pregnancy and the management of any medical concerns that may exist before conception. Pre-pregnancy counselling and care will assist you in becoming physically and emotionally healthy before you become pregnant.
Why is pre-pregnancy counselling necessary?
Pre-pregnancy counselling aims to reduce the risks and difficulties of pregnancy while prioritizing a comfortable pregnancy for both the couple and the kid.
Aside from conventional counselling, the couple is made aware of the baby's health and proper pregnancy duration. In the following cases, pre-pregnancy counselling may be beneficial:
To detect pre-existing or undiagnosed disorders such as high blood pressure, diabetes, epilepsy, and other conditions that can harm fetal and maternal health. We can control them to improve outcomes.
Identify pregnancy-related problems and concerns in women. It is required in cases where the prior child was born prematurely, had a congenital disability, or the mother experienced a miscarriage or stillbirth.
Evaluate potential risks to the developing baby during pregnancy.
Suppose a family member has a pre-existing genetic disease, such as thalassemia. When it comes to marriages between close relatives, pre-parental counselling becomes even more necessary.
What does pre-pregnancy counselling in Mumbai include?
During your pre-pregnancy counselling session, some of the best gynecologist in Mumbai at our clinic will review your medical history and vaccination analysis report. They will also assess any pre-existing infectious diseases such as hepatitis, HIV, and sexually transmitted infections.
Women with Rh-negative blood groups are at an increased risk of complications. Pre-pregnancy counselling can help you understand the risks and minimize the issues that come with it.
Our gynecologist will record your weight and BMI and advise you and your partner on living a healthy lifestyle by eating well and exercising regularly. You both should quit drinking alcohol and smoking, follow the doctor's instructions and undergo the medical tests that they recommend.
The best Gynecologist in Mumbai for high risk pregnancy will prescribe folic acid tablets, which you must start at least three months before conception. Folic acid deficiency is linked to defects in the baby's spinal cord development, anemia, and an increased risk of miscarriage.
Physical Examination
Our gynecologist at
Budget 
IVF 
& Fertility Centre will carry out a physical examination that will include:
Examine the vagina, abdomen, and breasts for lumps or anomalies that could cause complications during pregnancy or labour.
A pelvic ultrasound scan is done to determine the health of your genital organs, including your uterus, ovaries, and cervix.
A vaginal swab is done to screen for sexually transmitted diseases and yeast infections.
Tests to be done during pre-pregnancy counselling
Our gynecologist may suggest specific tests that the couple should consider to help them prepare for the upcoming pregnancy. They include:
Complete blood count
Pap smear
Thyroid test
Rubella test
HIV test
Genetic testing
Hepatitis test
Why choose Budget IVF & Fertility Centre for pre-pregnancy counselling in Mumbai?
Budget IVF & Fertility Centre stands out from other centres by providing excellent patient care. The environment and facilities at our clinic have been created to ensure that our patients receive personalized, hassle-free treatment.
You can avail the services of some of the best gynecologist in mumbai for pregnancy who practices at our centre. They are experts in minimally invasive procedures and have profound knowledge of reproductive medicines and women's health.
Our centre has the latest and most advanced equipment, ensuring accurate diagnosis and treatment, faster recovery, and optimum results.
Our primary goal is to provide affordable pre-pregnancy counselling in Mumbai so that everyone can benefit from world-class medical care. We ensure that you obtain an accurate diagnosis and the most appropriate treatment at a reasonable cost.
Frequently Asked Questions
A pap smear is done to check for precancerous changes in the cervix, cervical cancer, chlamydia, and gonorrhea.
Following your appointment, your gynecologist may make various recommendations. These may include a combination of lifestyle adjustments and healthcare recommendations.
This consultation should take place at least three months before you begin attempting to conceive.